3PL SERVICES
Realize the power of end-to-end supply chain solutions with integrated 3PL services that deliver data-driven efficiencies, optimal visibility, and reliable cost controls to keep you ahead of the competition.
COMPLETE LOGISTICS SERVICES
INTEGRATED LOGISTICS
As a 3PL provider specializing in integrated logistics solutions, ODW can help your organization make data-informed and future-focused decisions that transform your logistics into a driver of value.
Strategic Load Planning
Optimal Mode and Route Selection
Retail Compliance
Reliable Communication
Continuous Innovation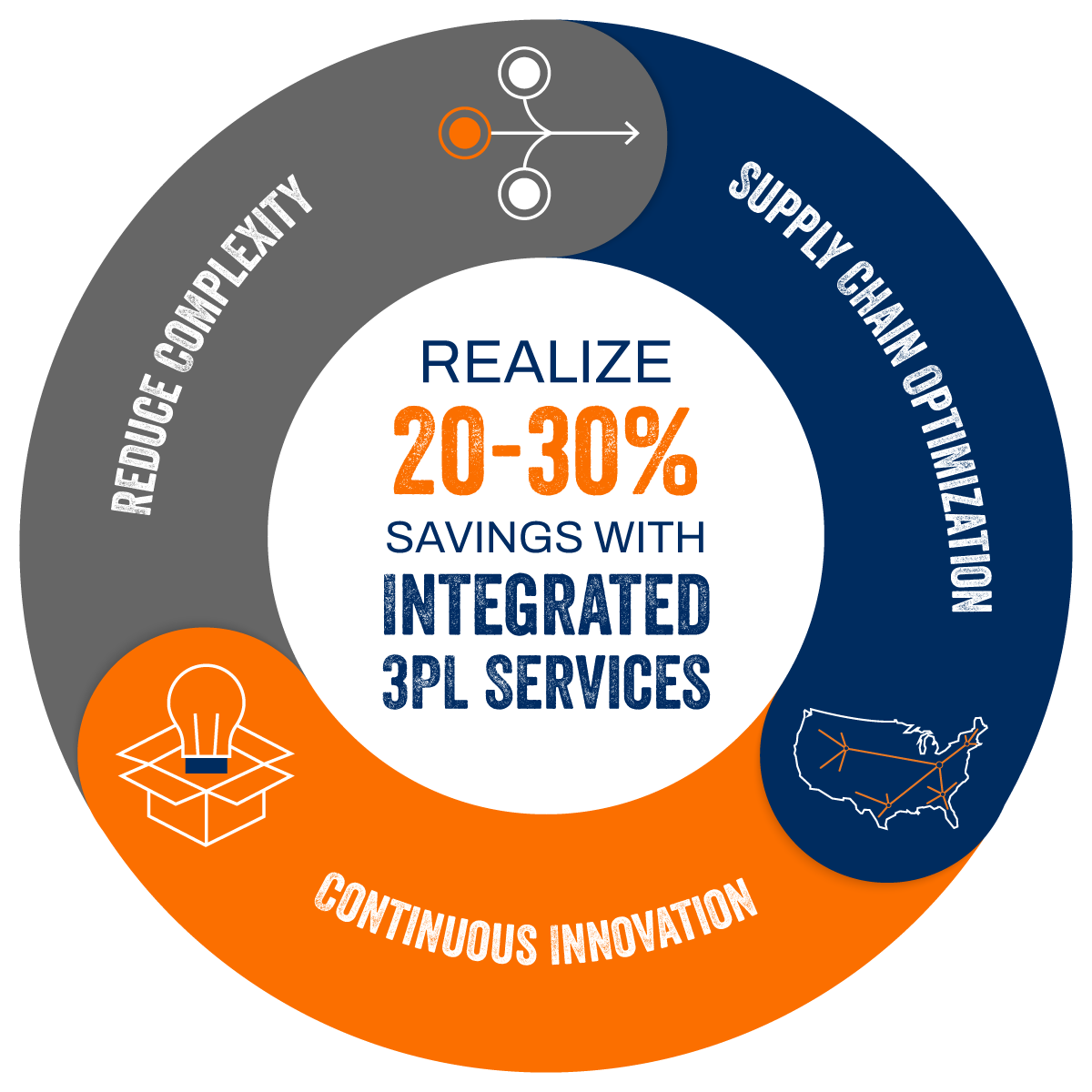 REDUCE COMPLEXITY
Streamline communication
Work with a dedicated team
Better supply chain visibility
CONTINUOUS INNOVATION
Retail consolidation
Strategic inventory and freight planning
Automated workflows
SUPPLY CHAIN OPTIMIZATION
Leverage strategic load planning
Lock in optimal mode and routing
Ensure retail compliance
OUR PROCESS
YOUR ROADMAP TO GROWTH
01

Discover

02

Design

03

Implement

04

Improve
What Are Your Goals & Objectives?
We start with a comprehensive research meeting to understand your current operation, identify potential supply chain gaps, and envision ideal scenarios.
---
DISCOVERY INCLUDES:
On-site visit to assess current distribution model
Complete analysis of current supply chain
Future state alignment
In-person business-fit presentation
We Create a Custom-Engineered Solution
When we say our logistics solutions are purpose-built, the purpose is derived from the discovery process and developed with a clear vision for your business.
---
Design Includes:
Collaboration with our team of engineers to develop the optimal supply chain solution
Efficiencies, automation, and integrations to drive labor savings and scalable growth
In-person presentation of your custom supply chain solution
Alignment on IT Integration and concept of operations
Seamless Integration Is Essential
Enhancing your supply chain shouldn't mean disrupting your daily business in the process. Our engineering and project management teams work in synchronization to ensure a smooth transition to our engineered solution.
---
Implementation Includes:
Detailed schedule development
A dedicated project management team
Weekly status meetings and proactive communication
Risk analysis and mitigation
Visibility and transparency throughout the process
An executive sponsor to ensure overall program success
Efficiency Never Sleeps and Optimization Never Stops
Our operations leaders, managers, and executive leaders uphold our culture of continuous improvement with a focus on driving value to your organization.
---
Continuous Improvement Means:
Quarterly business reviews of your long-term strategy, metrics, and forecasts
Proactive communication to identify evolving market changes and new opportunities
Complete visibility into your business metrics
Evolving supply chain solutions to align with your business objectives
Having an always-available dashboard